Caught This Morning.
Rum and Darrel. Fishin Fred must have taken this Picture.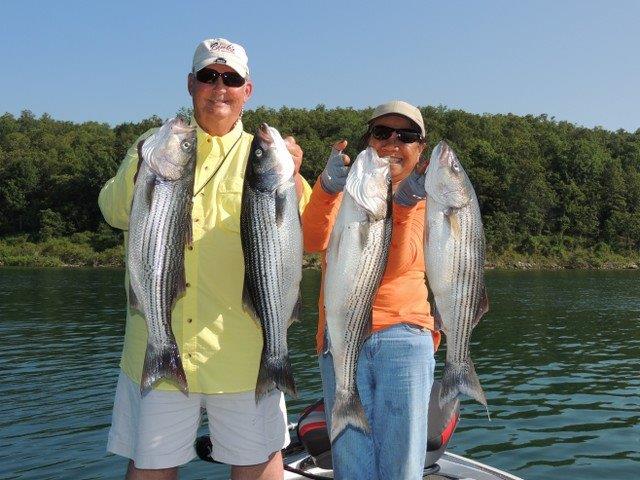 The lake is dropping a bit with one generator running and very dry and warm weather. It is now 556.64 and the thermocline has set in as normal with clear water down to just above 21-ft. and clear water in 30+ feet of water with a mudline with poor visibility in between. Some fish are in the mud line and some are below it. I am getting walleye in the 3-4 lb. range in 32 ft. near the bottom on brush. Most of them are around the brush and not right in it. Large Kentucky Bass, Largemouth Bass and white bass are there too. Joe and Beverly Keily from Downers Grove, Illinlois are back and are welcome. They report catching catfish. bass and bluegill. Bink is still on the striper and walleye and Scuba Steve is going after walleye only and doing quite well. Get out early, take the middle of the day off and go out in late afternoon to catch fish and beat the heat. This is like the end of July weather and the lake is heating up and the fish are going down. No problem just get out your jigging spoon.The lake is not crowded and there are few big boats like other lakes and many swim beaches. 1-800-635-0526 Blackburns will not charge you too much.