Mike Eakle caught this one off Crappie Rock last evening.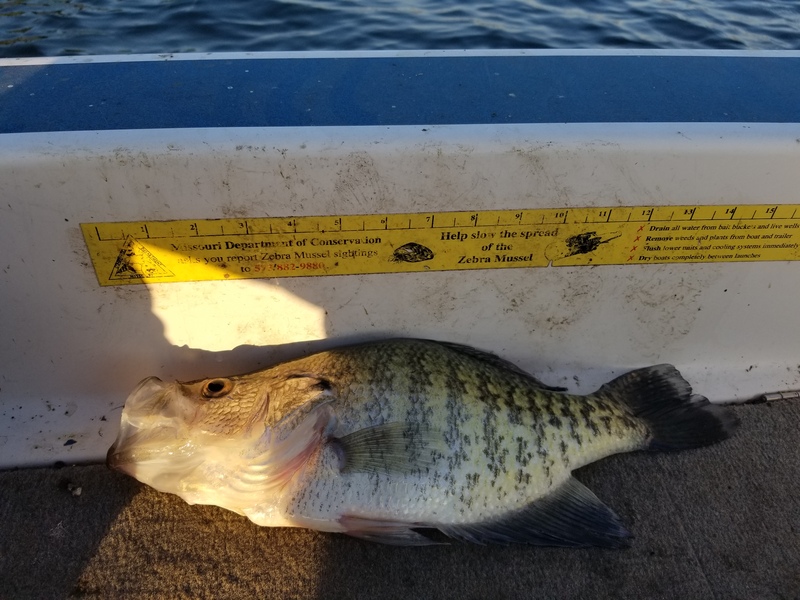 The Texas Boys, Jody and Wayne just left. Hope they come back soon.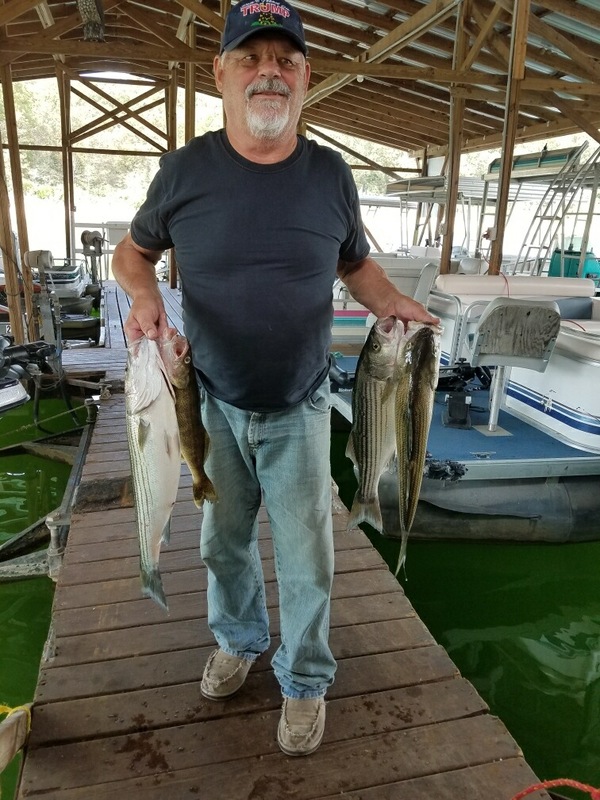 The lake level is 555.35 and has dropped 3-1/2 inches in the last 24-hours with 20-hours of continuous generation with 1-1/3rd generator running now that we have reached power pool and the Southwest Power has more control. The White River at Newport is at 7-feet but that should also rise. We sure could use an inch of rain. It is getting very dry and dusty. The lake surface water temperature was 83-84 when I went out yesterday afternoon and the water appeared clear on both the main lake and creek. We have several Scuba Divers coming in today and I will get a real report on the water clarity and thermocline. I have not had much time for diving for a while and have barely had enough for an hour or two of fishing it is so busy here with people taking advantage of the best prices on cabins and rental boats in the Ozarks. We finished installing new cabinets and countertops in several cabins until we run Lowe's out of them. We will resume when they get more in. The pool is sparkling and this is a good time to enjoy it. It is to get very cool the middle of next week with highs in the low 70's and lows near 49. That will be a drastic change but it has not happened yet. I am just going close to the dock and catching several fish everyday on brush. As the water drops they seem to be staying and not moving with the level. Brush in 29-30 ft. of water where to top comes closest to the surface seems to be where most of the fish are. Some are on top of it, some are in it and some are close around it. Walleye are a little deeper outside of the cover a few feet off the bottom. Tap the bottom with your spoon and snap it up about 5-6 feet and let it fall on slack line until your spoon touches and then repeat. I am not getting as many big walleye as a couple of weeks ago but still a few. Most are throwbacks. Most of my fishing is for crappie and Kentucky bass. They are not in a frenzy, on fire or jumping in the boat but biting pretty steady if you know how and where. I do not have to go far from the shed. There are several people releasing fish under the dock and the school is getting very large. There are a couple of trophy bass down there along with hundreds of big bluegill. The lake overall is in excellent condition for fishing, boating and swimming and the fishing is fair. Come on down. We will not charge you too much and your first regular sized boat stall is free. We still have a couple of openings for Bass Cat later in October so give Debbie a call at 870-492-5115 before you have to pay too much elsewhere. Way too much.