They caught crappie also.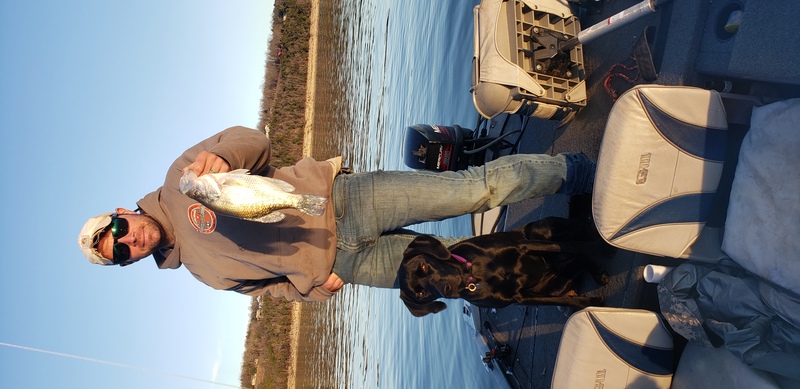 Corey and Molly Aeschelman with some very nice catfish. They caught some off the dock and some on jugs on live bluegill. Mark caught some also. Good to see them.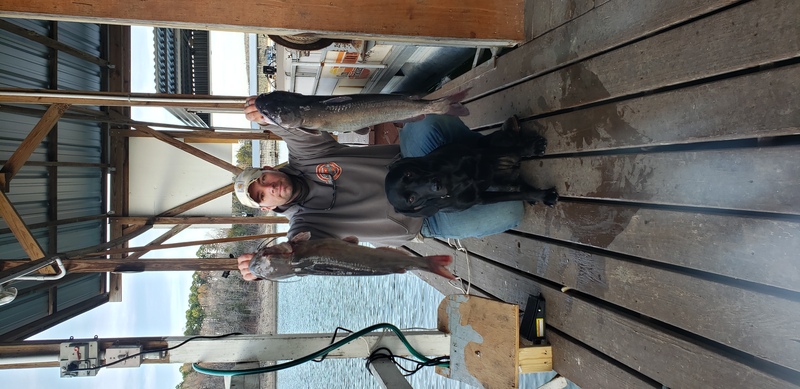 The lake level is 553.41 and has dropped less than an inch in the last 24-hours. They completely shut off generation part of the time, run about 1/2 generator part of the time and 1-generator a little of the time. They are missing a good chance to drop the lake and get it down so we have some surge capacity for the spring rains. I sure hope I do not hear that big spring rains have caused the lakes to be high next year. That lame excuse is getting old. The wind finally slowed last evening so I went fishing for a while. It was about 40-degrees and the water temperature was in the mid 50's depending on where you were. Some places it was 56+ and others less in shallow water. I saw no other boats. I spooned brush in Blackburns Creek for about an hour until dark and then came in and caught two crappie and a good bass. It is sunny and warmer today with much less wind. Another cold front is coming tomorrow but it looks to be fine for the wekend. Fortunately I have cold weather gear. Cold Decembers have been the norm for a few years but we will have several nice days. When the jet stream dips it allows cold Canadian air to drop into the southern plains and it just depends how far south it goes. If we get it almost everyone else gets it too. At least you cannot walk on our water or drill holes in it. I am done with that. I have 26-acres of cedar forrest and will start cutting trees for winter brush piles and dragging them to the dock to put in the lake soon. We freshen them up every year and they hold a lot of fish. I am starting to catch a few throw back crappie and that is a good sign. The spawn this year was weird for some reason and I am not sure how good it was but there are a lot of big ones. The bass population is very high and the walleye are getting more numerous every year. The catfishing is also good and the hybrid stripers are not bad but none were stocked this year and it will hurt the future if people keep killing them. I wish they would stock more. Big bluegill are everywhere. They are fun to catch and better to eat as are the Kentucky Bass. The White Bass are coming back from their low numbers and things look good for next spring fishing overall.